Margaret Phillips
Concert organist
Alla Danza
Music by Bach (Fuga alla Giga BWV 577); Pachelbel (Chaconne in F minor);
Sweelinck (Balletto del Granduca); Heiller (Tanz Toccata); Planyavsky (Toccata alla Rumba);
Litaize (Prélude et Danse Fuguée); Petr Eben (Four Biblical Dances) and others.
Playing time 72:36. Recorded at Oakham School (Peter Collins 1994). Regent REGCD 114.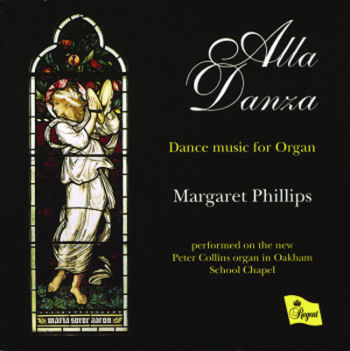 'The tempo for the Bach is perfect, the bouncing rhythm immaculate, and throughout Margaret Phillips plays with razor-sharp clarity.'
BBC Music Magazine, June 2001
'It is the disc of Margaret Phillips to which I keep returning. Her uncanny ability to present cogent and musically balanced recitals is matched by the considerable musicianship demonstrated throughout. Listen to the Pachelbel Chaconne in F minor as an example of her deeply moving, intuitive playing.'
BBC Music Magazine, January 1996
Price and ordering information
Thank you for visiting these pages.
Margaret Phillips
Back to top of page