Margaret Phillips
Concert organist
Capriccio - Contemporary music for organ
Lionel Rogg: Hommage à Liszt; Partita sopra Nun freut euch
Fredrik Sixten: Prelude & Fugue In Memoriam Maurice Duruflé
Sebastian Forbes: Haec Dies; Capriccio
Ad Wammes: Miroir
Brian Chapple: Six Bagatelles
Toon Hagen: Shalom
Recorded on the 2006 Beckerath organ in Marlborough College Chapel.
Playing time 76:21. Regent REGCD 419.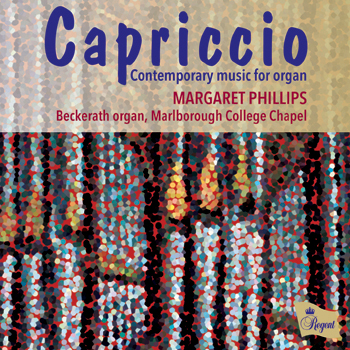 'On 'Capriccio', Margaret Phillips chooses a handful of works…to demonstrate her not inconsiderable virtuosity and her innate handling of often quite demanding scores. It is thrilling to hear Sebastian Forbes's Haec Dies and Lionel Rogg's Hommage à Franz Liszt delivered with such breathtaking panache in the somewhat intimate surroundings of Marlborough College Chapel; and, as a delightful moment of repose in all this aurally assertive music, the Dutch composer Ad Wammes presents charm aplenty in his minimalist Miroir.'
Gramophone, March 2015
'Margaret Phillips' playing is always rhythmically vital and is commanding of attention.'
Organists' Review, December 2014
'…Margaret Phillips is at her best in this repertoire and plays brilliantly…'
Choir & Organ, September/October 2014
'Het orgel van Marlborough is geknipt voor deze muziek. Phillips ook!' (The Marlborough organ is perfect for this music. Phillips too!)
Reformatorisch Dagblad, September 2014
'…this is a dazzling display both of her playing and of this resource-rich 2006 Beckerath organ…the playing is powerfully expansive and demonstrative…a compelling and richly colourful performance…Capriccio lives up to its title by leaping energetically around the organ to reveal some unforgettable sounds. Displaying both instrument and organist at their consummate best, it seems entirely fitting that it is this work, almost the shortest in the programme, which has lent its title to the disc as a whole.'
International Record Review, September 2014
'…Each piece in this collection presents its own set of challenges, be they musical or technical, none of which seem to intimidate Margaret Phillips…she makes it all sound so easy, and musical to boot. Her choice of registration in each piece never fails to complement the music and elevate it to the next level.'
Classical Music Sentinel, August 2014
'…an interesting and eclectic collection of contemporary composers, a first-rate instrument and a wonderful player all recorded in pristine clarity by Gary Cole.'
Cross Rhythms, July 2014
'The playing is of a very high standard and the organ speaks clearly.'
Sydney Organ Journal, Spring 2014
Price and ordering information
Thank you for visiting these pages.
Margaret Phillips
Back to top of page