Margaret Phillips
Concert organist
John Stanley - The Complete Voluntaries
John Stanley (1712-1786): The 30 Voluntaries for organ, Op. 5, 6 & 7.
Recorded in 2003 on four historic English organs:
St Helen, Bishopgate, City of London (Thomas Griffin 1742-3, restored Goetze & Gwynn 1995);
St James, Bermondsey, London (J.C. Bishop 1829, restored Goetze & Gwynn 2002);
St Peter & St Paul, Blandford Forum (G.P. England 1794);
St Mary Rotherhithe, London (John Byfield 1764).
Two CD set, playing time 144:52. Regent REGCD 190.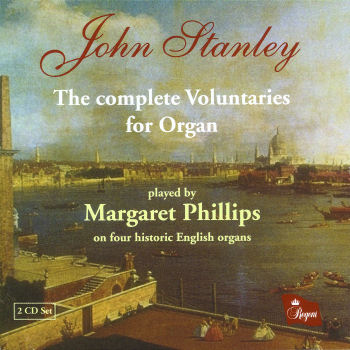 'Margaret Phillips's complete recording is a winner. The four historic organs used are obvious choices for this music which sounds exactly right on them. Phillips's intelligent, sober playing is perfect - graceful lively and accurate... this is a first-class achievement.'
Goldberg Early Music Magazine, February 2005
'There is not a boring performance….a delightful disc….recommended.'
Cathedral Music, December 2004
'Margaret Phillips embarks upon the great task of performing and recording all thirty voluntaries with inextinguishable energy, verve and musical polish. Her touch is a miracle of articulation - clear as a bell runs of semiquavers, each note placed with harpsichord-like precision... On so many levels (not least Gary Cole's beautiful recorded sound) these voluntaries are a sheer delight, well worthy of the accolade of being this issue's Editor's Choice'
Organist's Review, November 2004
'This CD [set] transcends pure enjoyment: it is an important document in its own right (Stephen Bicknell's booklet-note is worth the price of the discs) and the registrations and interpretations are superbly judged. I relished the crunchy Cornet, the lovely cello tone and the distant sparkling echoes.'
The Gramophone, November 2004
'Margaret Phillips plays sensitively and musically….her sense of touch and articulation is spot on, as is her sense of the projection of a musical line. I can thoroughly recommend this double CD not just to organists, but to all music lovers. Buy lots, and send copies to your friends.'
Early Music Review, August 2004
'Margaret Phillips captures the spirit of the eighteenth century marvellously….this should be a must.
The Organ, August 2004
'Magnificently recorded release….played with such panache and colour….fascinating music'
Birmingham Post, July 2004
Price and ordering information
Thank you for visiting these pages.
Margaret Phillips
Back to top of page