Margaret Phillips
Concert organist
J.S. Bach Volume I
The "Eighteen" Chorales; Canonic Variations; and "Schübler" Chorales
Recorded on the 1737 Treutmann organ, Klosterkirche, Grauhof, Germany.
Two CD set, playing time 117:29. Regent REGCD 232.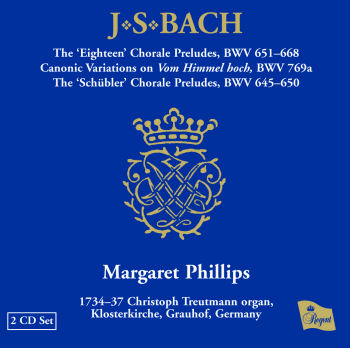 '...marvellous two CD-set...Phillips plays this corpus of chorales with great understanding and authority... [She] excels in the trio textures, navigating the technical difficulties of Herr Jesu Christ, Allein Gott and Kommst du nun with light-hearted aplomb. Her choices of registration...are insightful and inspired. It is refreshing to hear Bach played so transparently; whether in slow, lyrical movements, or in lively canonic figuration, Phillips lets the music speak for itself through the varied timbres of the Treutmann organ.'
Early Music, November 2008
'The sound is certainly just right and, coupled with Phillips's very robust and businesslike handling of the larger chorale preludes, produces some impressive results. The first of the so-called 18, exudes power and authority, the gutsy organ the perfect complement to Phillips's assertive and virile playing. Indeed, the abiding impression here is of strength and robustness…Brisk tempos and clearly enunciated textures help drive the music along with a refreshing vigour and vitality.
…in terms of sheer listening pleasure, these are organ recordings par excellence…we are clearly here in the realms of a Bach series which stands proudly among the best. In these two volumes we have some of the finest performances of Bach chorale preludes on disc…[this] bodes well for what promises to be one of the more exciting Bach series of recent times.'
International Record Review, September 2007
'This is an impressive recording from the first note to the last. The 18th century Treutmann organ is magnificent with a glorious plenum at one end of the scale, and solo stops of remarkable sweetness and vocality at the other. Moreover, Margaret Phillips's playing shows a consummate stylistic fluency, handling lyric and virtuosic passages with equal skill and grace. Her performances both invite and repay continued hearings.'
Choir & Organ, September/October 2006 *****
'The reviewer of CDs of organ music may at times find it hard to receive yet another "Bach" recording. The catalogue of J.S. Bach CDs is indeed so enormous, there have been so many 'complete works' recorded on so many beautiful instruments, not to mention the constant stream of separate recordings of "Bach recitals", that it is a little tiresome sometimes to listen to these time-hallowed pieces for the umpteenth time - if they are performed indifferently, that is.
I was thinking of this before playing Margaret Phillips' new double-CD set for the first time. But once I had listened to it, I found myself lucky I had not dismissed it too hastily. Everything here works admirably and is worth commending: the selection of some of Bach's greatest works (the "18" Chorale Preludes BWV 651-668, the Canonic Variations on Vom Himmel hoch BWV 769a and the Schübler Chorale Preludes BWV 645-650); the excellent quality of the sound recording; Margaret Phillips' impeccable playing; and last but not least, the beautiful organ used, the rare historic Christoph Treutmann organ in the Klosterkirche at Grauhof in Germany (3 manuals/ped, 42 stops, 1734-37) restored by Gebrüder Hillebrand in 1989-92, one of the most authentic instruments of Bach's period. This organ combines South and North German characteristics which make it an ideal vehicle for Bach's music.
The sheer energy and drive of Phillips' playing as well as the depth and serenity with which she approaches the more meditative pieces (e.g. An Wasserflüssen Babylon BWV 653 or Schmücke dich, o liebe Seele BWV 654) are utterly convincing'.
Goldberg Early Music Magazine, August/September 2006 *****
Price and ordering information
Thank you for visiting these pages.
Margaret Phillips
Back to top of page