Margaret Phillips
Concert organist
J.S. Bach Volume X
The Art of Fugue BWV 1080
Canonic Variations BWV 769
Recorded on the 2012 Richards, Fowkes & Co. organ,
St George's Hanover Square, London
Two CD set, playing time 120:58. Regent REGCD 558.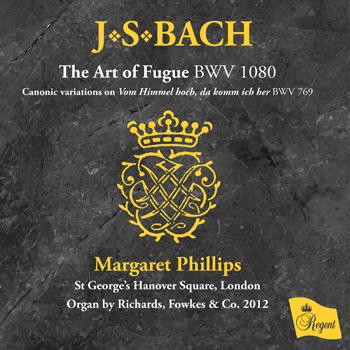 Margaret Phillips plays with enviable restraint, avoiding the personal mannerisms that can make live concerts exciting but can so often make recordings difficult for repeat listening. This recording is eminently repeatable, her meticulous sense of articulation and phrasing allowing us to concentrate on Bach's complex counterpoint without distraction.
Andrew Benson-Wilson, Early Music Reviews, June 2022
'It has been a privilege to review these CDs – coming at the end of this difficult 2021, nothing could be both more respectful and more uplifting than Margaret Phillips's playing of some of the most sublime music in existence. It would be impossible to do justice to the whole recording in a short review, so of necessity I will focus on some of the highlights.
The organ (Richards, Fowkes & Co., 2012) shines in its own right and serves the music beautifully. The richness of the plenum sound chosen to frame the entire work for Contrapunctus 1 and Contrapunctus 14 in both versions creates splendour and gravity, with optimum tempi and control, along with space in performance.
Placing the Canonic Variations between the original incomplete, and the satisfying completed version (by Kevin Korsyn) of Contrapunctus 14 seems here to benefit both works. It felt to me that a light is shone on the delicacy of the counterpoint in combination with use of the chorale in the variations after listening right through from the start of the first CD. Again here, the chosen speeds allow for the chorale to sing through at a highly recognisable and singable pace. A highlight for me is the use of the Sesquialtera in Variation 4 which provides the perfect vehicle for the increasingly florid right hand as it reaches that significant top C at the end.
To select just a few notable points is difficult: the choice of a grand jeu for Contrapunctus 6 (in stile francese) connects us immediately not simply to the world of the French overture, but also to the direct impact of De Grigny on Bach's writing. The use of a 4ft only for the light Contrapunctus 13 creates a memory of the virtuosic passages in earlier works such as Georg Muffat's Apparatus musico-organisticus. The effect of such choices, alongside such assured playing, creates a sense of being immersed in Bach's Europe, both in geographical and historical contexts.'
Organists' Review, March 2022
'...In contrast to the prickly eccentricities of some of the more extreme exponents of so-called period performance practice, Phillips never loses sight of the fact that she is playing eloquent music that unfolds in expansive phrases. She constantly demonstrates her mastery of agogic nuance, which I consider the organist's most valuable resource for the shaping of musical phrases. These are consistently sensitive and eminently musical performances, not musicological exercises.
...I do not pretend to have heard every organ recording of Art of Fugue, but I have yet to hear one that surpasses this. I would guess that most listeners could happily live with it over the long haul.'
American Record Guide, March/April 2022
'This is a considerable achievement on the part of Margaret Phillips and is comprehensively recommended – and not just to organ enthusiasts. This set of discs is far more than an appendix to Ms Phillips's integral recording for Regent of the complete Bach organ works - it is a statement of artistry on the part of composer and artist that stands very much by itself...
Margaret Phillips's performance is distinguished by extreme clarity, grace and precision, an intellectual understanding and mastery which are wholly admirable and utterly convincing. It is splendid to be able to hear Bach's counterpoint with such admirable lucidity as Ms Phillips demonstrates - time and again - and to appreciate the growth of his structural mastery, which in itself is an additional emotional experience such as comes rarely to listeners...
there cannot possibly be any doubt that this set of discs is shot through with interpretative insights brought off with immense skill and artistry.
In addition, we have the Vom Himmel Hoch variations, performed with equal mastery, and Kevin Korsyn's conjectural completion of the final fugue in The Art of Fugue. The recording quality is first-class. This is a greatly significant issue.'
The Organ, February 2022 ★★★★★
'...a fine performance of the Art of Fugue on the marvellously elegant organ of St George's Hanover Square.'
Choir & Organ, March 2022
Price and ordering information
Thank you for visiting these pages.
Margaret Phillips
Back to top of page