Margaret Phillips
Concert organist
J.S. Bach Volume II
The Orgelbüchlein, BWV 599-644;
Prelude & Fugue in C BWV 531; Prelude & Fugue in E minor BWV 533;
Prelude & Fugue in A BWV 536; Fantasia & Fugue in C minor BWV 537;
Fugue in B minor on a theme of Corelli BWV 579; Canzona in D minor BWV 588; Allabreve in D BWV 589.
Recorded on the 2004 Organ by Bernard Aubertin in Saint-Louis-en-L'Île, Paris.
Two CD-set, playing time 118:27. Regent REGCD 254.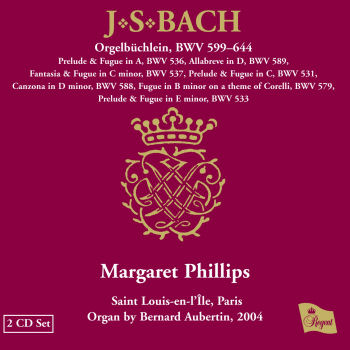 'The astounding fertility of invention in these organ chorales is underlined in Phillips's fine readings, and well served by the splendid new 51-stop Aubertin organ of 2004. Phillips's registrations are finely judged, and the playing impeccable…'
Early Music Today, November 2008
'…a blissful marriage of impeccable musicianship and formidable technique…a satisfyingly varied programme. Very highly recommended.'
Church Music Quarterly, December 2007
'Margaret Phillips gives mature readings with a lovely ebb and flow. Clearly well aware of period performance practice, her playing is intelligent, natural and full of musical sensitivity. Highly recommended!'
Organists' Review, November 2007
'Wonderfully sensitive playing on a beautiful instrument.'
Cathedral Music, November 2007
'Students using this collection for guidance will find it extremely useful, and general listeners will derive much pleasure from Phillips's thoughtful interpretations.'
The Organ, November 2007
'For Bach's '18' and 'Schüblers' Margaret Phillips went to Germany; her new Orgelbüchlein explores the recent Bachian Aubertin organ of Saint-Louis-en-L'Île, Paris - an inspired match for her attentive and unfussy readings.'
BBC Music Magazine, November 2007
'This is not only an organ which makes the ideal sound for this programme of smaller Bach pieces but produces a simply stunning sound in its own right. Listening to this disc is a real aural delight. Phillips is certainly an uncannily perceptive and vivid interpreter of the 46 bite-sized chorale preludes which constitute the Orgelbüchlein…her brilliant use of registration (easily the equal of Marie-Claire Alain's, whose own Bach recordings are characterized by exceptional registrations) ensures that, even hearing them all back-to-back, the ear never tires.
…in terms of sheer listening pleasure, these are organ recordings par excellence…we are clearly here in the realms of a Bach series which stands proudly among the best. In these two volumes we have some of the finest performances of Bach chorale preludes on disc…[this] bodes well for what promises to be one of the more exciting Bach series of recent times.'
International Record Review, September 2007
'…an impressive instrument and Margaret Phillips makes excellent use of the registration possibilities that it presents. Her playing is methodical and musically sensitive, with a very clear sense of articulation. She eschews hollow gestures or personal mannerisms, and allows Bach's music to speak directly to the listener, without interfering with it on the way. This makes these good reference CDs for repeated listening. If this sounds all rather dull and unexciting, then listen to the passion and energy of the pieces for full organ.'
Early Music Review, August 2007
'Très bel enregsitrement enthousiasmant de l'Orgelbüchlein de Bach accompagné de pièces de jeunesse par une des plus talentueuses organistes anglaises. Très belles registrations, tempi justes, vivants. Le rendu sonore de l'orgue est aussi très réussi. Magnifique!'
France Orgue, Guide de la Musique de France www.france-orgue.fr, July 2007
Price and ordering information
Thank you for visiting these pages.
Margaret Phillips
Back to top of page