Margaret Phillips
Concert organist
J.S. Bach Volume III
Clavierübung Part III; Partite diverse sopra Sei gegrüsset, Jesu gütig;
and Pièce d'Orgue
Recorded on the 1730 Trost organ, Waltershausen, Germany.
Two CD set, playing time 128:56. Regent REGCD 276.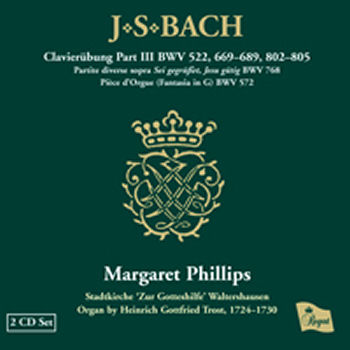 'There is a warmth and blend to the sound of the organ, the recording is very clear…the performances are excellent. The music is presented musically with clarity of texture and without fuss. I found the sounds in Christ, aller Welt Trost quite ravishing.'
Organists' Review, November 2008
'These are thoughtful, highly musical readings of some of Bach's most abstruse organ music. Phillips uses this wealth of colour with consummate skill…'
Early Music Today, November 2008
Price and ordering information
Thank you for visiting these pages.
Margaret Phillips
Back to top of page