Margaret Phillips
Concert organist
J.S. Bach Volume IV
Prelude & Fugue in F minor BWV 534; Toccata in F BWV 540;
Prelude & Fugue in C BWV 547; Trio Sonata No. 3 in D minor BWV 527;
Fantasia & Fugue in A minor BWV 561; Aria in F BWV 587; Pastorale BWV 590;
Concerto in A minor (after Vivaldi) BWV 593;
Christmas Chorale Preludes BWV 696-704; 710; 711; 713;
715-717; 722-724; 729; 732; 738; 739; 751.
Recorded on the 1976 Metzler organ, Trinity College, Cambridge.
Two CD-set, playing time 136:35. Regent REGCD 258.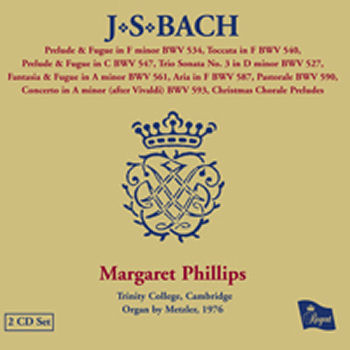 'Her utterly clean, characterful playing and perfectly judged registrations…Phillips is an inspiration.'
Choir & Organ, November/December 2008
'Phillips, Bach and the Trinity Metzler are a winning combination.'
Record Review, BBC Radio 3, 8 November 2008
'…niftily played with beautifully sprung rhythm…rip-roaring performances of the stupendous Toccata & Fugue in F, and the early Prelude & Fugue in C minor.'
Early Music Today, November 2008
'Listen to the truly scintillating account of the F major Toccata; eight-and-a-half minutes' worth of unrestrained happiness. The Fantasie of BWV561 gushes like a decorative fountain sparkling in the sunlight…while the C minor Prelude and Fugue, BWV549 gets about the most stirring and robust performance I've yet heard on disc.'
International Record Review, October 2008
'In Margaret Phillips's skilful hands (and feet) each contrapuntal line sings melodiously. Phrasing sounds utterly natural: neither mannered nor forced. Tempi are finely judged and never excessive in either direction. These are performances to which it is a pleasure to listen.'
Church Music Quarterly, September 2008
Price and ordering information
Thank you for visiting these pages.
Margaret Phillips
Back to top of page