Margaret Phillips
Concert organist
J.S. Bach Volume V
Toccata & Fugue in D minor BWV 565; Toccata & Fugue in D minor BWV 538 'Dorian';
Toccata, Adagio & Fugue in C major BWV 564; Prelude & Fugue in G minor BWV 535;
Prelude & Fugue in C major BWV 545; Fugue in G minor BWV 131a; Trio Sonata No. 2 in C minor BWV 526;
Trio Sonata No. 5 in C major BWV 529; Concerto in G major (after Ernst) BWV 592;
Pedal-Exercitium BWV 598; Partite diverse sopra Christ, der du bist der helle Tag BWV 766;
Partite diverse sopra Ach, was soll ich Sünder machen BWV 770;
Chorale Preludes BWV 721; 725; 728; 730; 731; 734; 741; 743; 745; 754; 755; 763.
Recorded on the 1743 Hinsz organ, St Nicolaas (Bovenkerk), Kampen,
and the 1696 Schnitger organ, Hervormde Kerk, Noordbroek.
Two CD-set, playing time 155:52. Regent REGCD 301.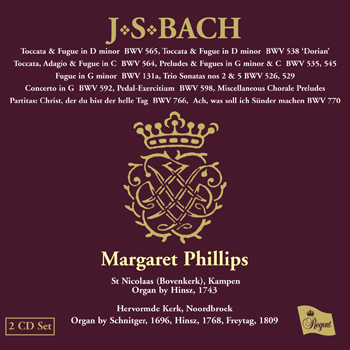 'The fifth CD...continues the standards set in the previous discs. The playing continues to be of the highest order...As the owner of no fewer than nine sets of the 'complete' organ works of J S Bach, I wonder whether I need any more recordings of this music. The answer, as far as this series of discs is concerned, is 'Yes'.'
Cathedral Music, November 2011
'…magnificent sound in both fuller and lighter registrations. I was especially taken with the special charm that the smaller organ gives to the Toccata in C…Margaret Phillips clearly understands that articulation and agogic nuance are perhaps the most valuable resources an organist has for shaping phrases… if the others are to this standard, the series as a whole can claim its place among the best of recent years.'
American Record Guide, May 2011
'Margaret Phillips is a resourceful musician who combines intelligent phrasing, digital accuracy, and well-chosen tempos in an ideal mix.'
Fanfare Magazine, Sept/Oct 2010
'… compelling and consummate artistry… superb playing…Margaret Phillips's playing is fastidious without being fussy; not setting out to shock, simply allowing the music to speak for itself. Regent's warm and natural engineering and comprehensive booklet are top-notch. Both discs make satisfying recitals in their own right. Taken together they constitute a feast.'
Gramophone, October 2010
'…Volume 5 of Margaret Phillips's much-lauded Bach series… performances are full of integrity, always engaging, and allow imaginative registrations…All delightfully refreshing - nay, positively ravishing at times.'
Organists' Review, August 2010
'…this new recording on Regent was received with a welcome smile of sheer delight! Margaret Phillips offers us playing that remains thoughtful, elegant, informed and above all sensitive to the score. There are no quirks here, but rather intelligent decisions with regard to tempi, registrations, ornamentation and overall musicianship and style. The ease with which the second and fifth trio sonatas are delivered is a fine example; one has the genuine sense of chamber music here rather than a mere technique feat. Similarly, the outer movements of the Concerto in G major (after Ernst) and the Toccata, Adagio and Fugue are imbued with a happy buoyancy that certainly lifts the music right off the page… This recording deserves to join the distinguished line of previous complete Bach collections.'
The Organ, August 2010
'…I particularly liked her ability to pace the music perfectly for organ and acoustic. Many absolutely beautiful registrations, particularly in the chorales, a sparkling 5th Trio Sonata and fine performances of the Toccata, Adagio & Fugue are typical of this set, and the contrast between the large organ at Kampen and the more intimate instrument at Noordbroek is a further attraction. These fine performances radiate Phillips's love of this music, devoid of silly mannerisms yet historically aware. Highly recommended.'
Choir & Organ, July/August 2010 *****
'…it maintains the high standards she has set in previous issues in the series. The most immediately attractive aspect of Phillips's playing is her admirable sense of forward momentum; at her best she is an exciting player, but one who never rushes the music, which is heard at its finest in the two Toccatas and Fugues in D minor (BWV 538 and 565), where her playing is undeniably potent in its inner life…. both instruments are eminently appropriate and suitable for this repertoire… The booklet, notes and registrations of each work are excellent, with fine photographs and full specifications, all of which would do justice to documentation accompanying more expensive discs. I enjoyed this set very much and I recommend it enthusiastically…'
International Record Review, June 2010
Price and ordering information
Thank you for visiting these pages.
Margaret Phillips
Back to top of page