Margaret Phillips
Concert organist
J.S. Bach Volume VI
Prelude & Fugue in B minor BWV 544; Prelude & Fugue in E minor BWV 548;
Prelude & Fugue in G major BWV 550; Fantasia & Fugue in G minor BWV 542;
Toccata in E major BWV 566; Trio Sonata no. 1 in E flat major BWV 525; Trio Sonata no. 6 in G major BWV 530;
Trio in G BWV 586; Concerto in C major BWV 595; Concerto in D minor BWV 596;
Miscellaneous Chorale Preludes BWV 690, 691, 694, 695, 718, 712, 720, 727, 734, 736, 740, 744, 747.
Recorded on the 1738 Christian Müller organ, St Bavo, Haarlem,
and the 2004 Bernard Aubertin organ, Saint-Louis-en-L'Île, Paris.
Two CD-set, playing time 151:42. Regent REGCD 307.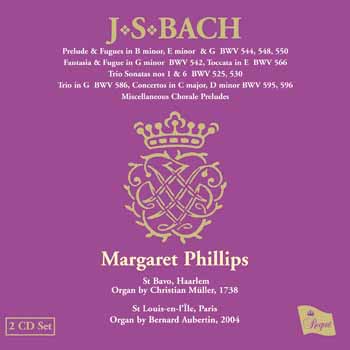 'All played with infectious conviction, compelling and exciting, with many moments of great beauty as well as verve and virtuosity… Owners of the first five volumes will need no persuasion. But certainly buy this one, and marvel! Wow!! Sure puts the bite back into Bach.'
Organists' Review, December 2011
'Margaret Phillips's Bach recordings are a significant achievement, and this latest has many delights.… the 'Wedge' Fugue on the Müller is wonderfully exciting… also on the Müller are a ravishing slow movement to Trio Sonata no. 6 and a colourful variety of registration in the chorales.'
Choir & Organ, November/December 2011
'The playing is, by turns, magisterial, reflective and sparkling...Fine, mature Bach performances - beautifully played and highly recommended.'
Cathedral Music, November 2011
'Phillips grabs it [the 'Wedge' Prelude & Fugue] by the scruff of the neck and imposes order across its vast structure… It's a dramatic and compelling account… the first movement of [the G minor Fantasia & Fugue] is given the most tempestuous interpretation I've heard in a while… A meditative though emotionally troubled Herzlich tut mich verlangen is the perfect preparation for the powerful B minor Prelude & Fugue that follows,… intelligent, considered programming that adds much to the disc' appeal… the recording quality is very good… fine photographs add to the high production values.'
International Record Review, November 2011
'Phillips's playing is always rock solid, with a keen sense of phrase and articulation. This is clearly one of the outstanding recordings of the Bach organ works.'
American Record Guide, November 2011
'This sumptuously illustrated sixth instalment of Margaret Phillips's complete Bach continues with clean, poised playing, devoid of artifice. The watchword here is clarity, whether in the intimacy of the chorale preludes or the heft of the monumental Toccata in E (BWV566)… Gary Cole's engineering is, as ever, top-drawer, matching Margaret Phillips's superb musicianship.'
Gramophone, Awards Issue 2011
Price and ordering information
Thank you for visiting these pages.
Margaret Phillips
Back to top of page