Margaret Phillips
Concert organist
J.S. Bach Volume VII
Passacaglia in C minor BWV 582; Prelude & Fugue in G major BWV 541;
Prelude & Fugue in C minor BWV 546; Prelude & Fugue in A minor BWV 551;
Prelude in C BWV 567; Prelude in G BWV 568; Prelude in C BWV 943;
Fugue in C minor BWV 575; Fugue in G BWV 576; Fugue in D BWV 580;
Fugue in G BWV 581; Fugue in C BWV 946; Fantasia in C BWV 570;
Trio in G major BWV 1027a; Concerto in C BWV 594; Concerto in E flat BWV 597;
Kleines harmonisches Labyrinth BWV 591; Partita: O Gott, du frommer Gott BWV 767;
Miscellaneous Chorale Preludes BWV 705-710, 726, 733, 749, 750, 751, 752, 756, 758, 762, 765, 1085.
Recorded on the 1728 Zacharias Hildebrandt organ, St. Jacobikirche, Sangerhausen,
and the 1736 Gottfried Silbermann organ, Petrikirche Freiberg.
Two CD-set, playing time 145:57. Regent REGCD 308.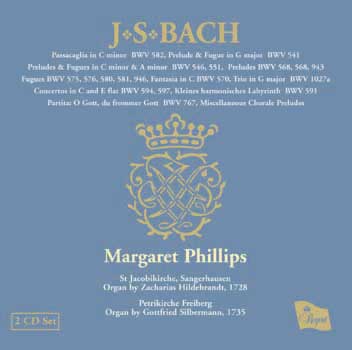 This volume is a 2012 'Critic's Choice' in the Jan/Feb 2013 edition of the American Record Guide.
'…impeccable, engaging performances on two more fascinating instruments…Having reached Volume VII, the reviewer may well struggle to muster plausible fresh superlatives…these performances convey the innate sense of power and drive so irresistibly.'
Organists' Review (Editor's Choice), June 2012
'With this 2CD set Margaret Phillips continues her distinguished traversal of the organ works of J.S. Bach... The present volume maintains the same high standard. Phillips's playing is solid and clear but also stylish and engaging. This is an outstanding series.'
American Record Guide, May 2012
'The playing throughout is of the highest order… The first disc opens with a sparkling account of the G major Prelude & Fugue (BWV 541)…the mighty golden Passacaglia (BWV 582) makes a splendid conclusion…This is another artistic and engineering success and a benchmark of musical integrity.'
Gramophone, May 2012
'The energy of the double fugue that concludes the [Passacaglia] is electric. …Phillips plays with great panache and elegance. There are many high-quality performances on these discs, making it another excellent addition to this fine series of Bach recordings.'
International Record Review, April 2012
…played on two really fine contemporaneous organs…The imaginative programme…juxtaposes preludes, fugues, concertos, trios and chorale preludes…Phillips evokes a wide range of kaleidoscopic colour…she has an unerring knack of choosing the right tempi…The playing is clean, correctly articulated, lively and communicative.'
Choir and Organ, March 2012 *****
'The first thing I instantly noticed about organist Margaret Phillips' playing, is that it is free of arbitrary mannerisms and devoid of empty artifice. It is, on the other hand, constantly alive and always musical.'
Classical Music Sentinel, January 2012
Price and ordering information
Thank you for visiting these pages.
Margaret Phillips
Back to top of page