Margaret Phillips
Concert organist
J.S. Bach Volume VIII
Prelude & Fugue in D BWV 532; Prelude & Fugue in D minor (Fiddle) BWV 539;
Prelude & Fugue in A minor BWV 543; Prelude in A minor BWV 569;
Fugue in G minor BWV 578; Fantasia in C minor BWV 562;
Fantasia & Imitatio in B minor BWV 563; Fantasia in G BWV 571;
Trio Sonata No. 4 in E minor BWV 528; Trio in D minor BWV 583; Trio in C minor BWV 585;
Neumeister Chorales BWV 714, 719, 737, 742, 957, 1090–1120.
Recorded on the 1727 Christian Müller organ, Grote Kerk (Jacobijnerkerk), Leeuwarden.
Two CD-set, playing time 152:29. Regent REGCD 328.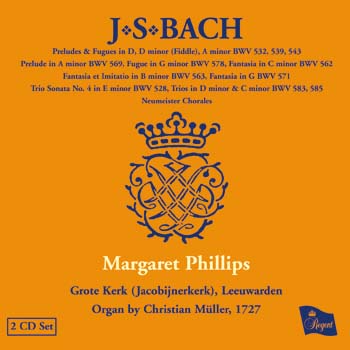 'The playing is of the highest order and manages to combine an informed and scholarly approach with a truly musical performance…Highly recommended.'
Cathedral Music, November 2012
'…a captivating sound combining both gravitas and sweet delights. As always with Regent, the sound is superb…Margaret Phillips is to be thanked for…a truly worthy addition to the corpus.'
Organists' Review, September 2012
'Here, spread over two generous CDs, are 52 tracks of honest, straightforward musical delight. This eighth volume of Margaret Phillips's complete Bach survey is up to her usual superb standard, aided by crystal-clear engineering which vividly highlights every colour of the glorious 1727 Müller organ in Leeuwarden, Holland… Congratulations to Margaret Phillips for completing this consistently deeply rewarding and fulfilling project, which is a true and worthy successor to those groundbreaking Bach cycles by Lionel Rogg and Peter Hurford.'
Gramophone, July 2012
'As in Vol. 7 of this complete cycle of Johann Sebastian Bach's organ works organist Margaret Phillips once again delivers steadfast and uncontrived readings of some of his most original and diverse pieces…The recorded sound is very natural, and positions you, the listener, at the right distance and perspective from the organ…'
Classical Music Sentinel, April 2012
Price and ordering information
Thank you for visiting these pages.
Margaret Phillips
Back to top of page