Margaret Phillips
Concert organist
J.S. Bach Volume IX
Prelude, Trio & Fugue in B flat BWV 545b; Eight Short Preludes & Fugues BWV 553–560;
Trio in G minor BWV 584; Fantasia in G minor BWV 917; Fantasia in C minor BWV 1121;
Ricercar a 3, Ricercar a 6 (Musical Offering) BWV 1079; An Wasserflussen Babylon BWV 653b;
Fantasia sopra Wo Gott der Herr nicht bei uns hält BWV 1128.
Recorded at the Sint-Nicolaaskerk, Sint-Niklaas, Belgium
Organ by Draps 1997, Flentrop 2008.
Playing time 74:28. Regent REGCD 454.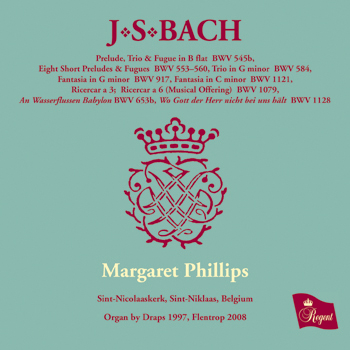 '…attractive music wonderfully well played, the leftovers from Margaret Phillips's acclaimed Bach series but not on that account to be despised; leftovers proverbially make remarkably tasty meals.'
Cathedral Music, May 2016
'…Phillips' playing – in this volume on a wonderfully singing Draps/Flentrop instrument – banishes all cares. The results are outstandingly clear and vibrant. An evocative coda to a truly scholastic pilgrimage.'
Organists' Review, March 2016
Price and ordering information
Thank you for visiting these pages.
Margaret Phillips
Back to top of page