Margaret Phillips
Concert organist
Mendelssohn - The Essential Organ Works
Felix Mendelssohn (1809-1847): Six Sonatas Op.65;
Three Preludes & Fugues Op.37; fifteen other pieces written between 1823 and 1845.
Recorded in 2004 at the Evangelische Stadtkirche, Lengerich, Germany
(organ by Breidenfeld 1836, reconstructed by Klais, 2003)
and the Stadtkirche St Alexander, Rastatt, Germany (organ by Stiefell 1831).
Two CD set, playing time 150:27. Regent REGCD 209.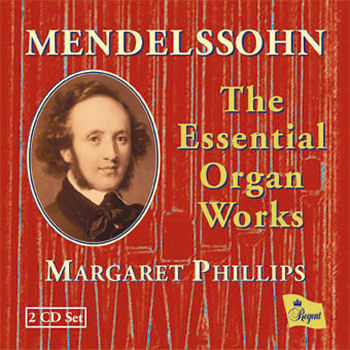 'These well-filled CDs are a delight. The performances are all very fine indeed; fluid, finely detailed, well paced and registered, and entirely natural - a pleasure to listen to. It is good to hear Mendelssohn played on these carefully chosen and unusual organs… The sound is excellent; well balanced and detailed although with plenty of reverb, impact and delicacy.'
The Organ, November 2005-January 2006
'This magnificent double CD should be in all music-lovers collections, organists or not. Margaret Phillips plays with authority and a musical understanding of the music and its context. She allows Mendelssohn to speak through the notes, rather than imposing her own undoubted virtuosity as an additional layer to the music.'
Early Music Review, June 2005
'This 2-CD set makes for fascinating listening. These two recently-restored instruments suit the repertoire extremely well, allowing the music to sparkle (without being brash), and enabling the clarity of textures to come through just the right amount. As one would expect, Margaret Phillips's performances are exemplary and, coupled with her well-researched programme notes and information on registration used, these CDs are a "must-have" for both the casual listener and also the serious organ student.'
Cathedral Music Vol 2, 2005
Price and ordering information
Thank you for visiting these pages.
Margaret Phillips
Back to top of page