Margaret Phillips
Concert organist
Springs of Genius
Music by Nicolaus Bruhns: Praeludium in G; Johann Kaspar Kerll: Passacaglia; Toccata No. 6;
Johann Pachelbel: Partita Alle Menschen müssen sterben; Toccata in E minor;
Johann Jacob Froberger: Fantasia Ut Re Mi Fa Sol La; Capriccio;
Georg Böhm: Vater unser im Himmelreich; Praeludium in C;
Johann Adam Reincken: Fuga in G minor;
Dieterich Buxtehude: Chorale preludes on Komm, heiliger Geist and Nun bitten wir; Ciacona in E minor;
J.S. Bach: Toccata in E BWV 566.
Recorded on the 2004 Organ by Bernard Aubertin in Saint-Louis-en-L'Île, Paris.
Playing time 78:51. Regent REGCD 300.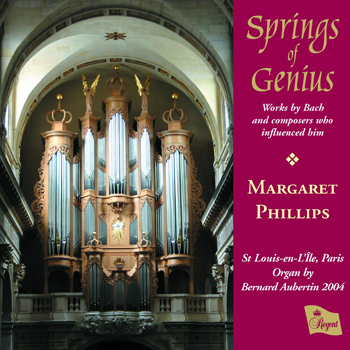 Listen to Dieterich Buxtehude: Komm, Heiliger Geist
'…this is one of the most exciting theme discs I have heard in years…another CD I'll return to often – highly recommended.'
Fanfare Magazine, Sept/Oct 2010
'…There is so much variety between pieces, from the intimacy of Buxtehude's affecting chorale preludes, to the virtuosity of the various preludes and toccatas. Importantly, Margaret Phillips brings to her performances the sense that she loves and values every piece and its composer, rather than regarding them as merely precursors to Bach…. A fascinating CD, beautifully played on a superb organ.'
Church Music Quarterly, June 2010 *** (Essential listening)
'The exemplary Aubertin organ in Saint Louis-en-l'Île (inspired by Hildebrandt) is played with complete finesse by Phillips, whose interpretations and registrations (every stop change is meticulously listed in the liner notes) will encourage much repeated listening.'
Choir & Organ, January/February 2010 *****
'I have found the playing of this gifted musician - her choice of registration, her phrasing and tempos - to be at one with the spirit of the music she has chosen. …with intelligently chosen and valuable repertoire, scholarly musicianship, technical expertise and fine recording quality, this is a CD that, on purely musical grounds, deserves wide success. I recommend it wholeheartedly.'
International Record Review, November 2009
'Margaret Phillips performs with precision and flair, and is sensitive to the details of stylistic variety in the programme. The booklet…lists the registrations used throughout. This is a nice touch, and perhaps aimed at aspiring organists who wish to use the recording as a model for their own performances. They would be well advised to do so.'
MusicWeb-International, October 2009
Price and ordering information
Thank you for visiting these pages.
Margaret Phillips
Back to top of page