Margaret Phillips
Concert organist
Voluntaries & Variations
Featuring eleven of the instruments in the EOS collection,
including organs by Snetzler (1769), James Davis (c. 1795), William Gray (c. 1810),
John Clark (1858), White of Dublin(?) (1865), Collins (1984),
harpsichords and a harmonium.
John Bull (Een Kindeken is ons geboren); Cabezón (Diferencias sobre el canto llano del caballero);
Sweelinck (Unter der Linden grüne); Scheidemann (Vom Himmel hoch da komm ich her);
Buxtehude (Passacaglia in D minor); Giles Farnaby (Quodling's Delight);
Henry Purcell (Voluntary on the 100th Psalm Tune); John Reading (Air for French Horns and Flutes);
John Stanley, Peter Prelleur and John Robinson (Voluntary from the Southgate ms);
Rameau (Gavotte); Franck (Three pieces from L'Organiste); Samuel Wesley (Voluntary 12th);
S.S. Wesley (Andante in E minor); Hesse (Variations on an Original Theme).
Playing time 73:08. Classical Recording Co. CRC 908-2.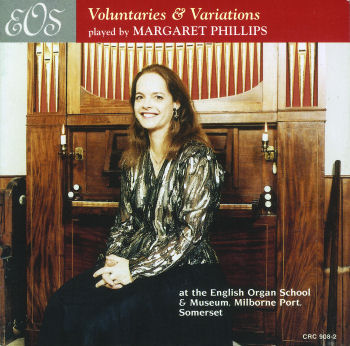 'Qualities of clarity and charm, commitment and conviction… are in evidence in each track. All receive an equal integrity of approach and perceptive musical insight; and equal pliancy and subtlety of nuance. Margaret's ability to make music at the keyboard is irresistibly and invariably present…a must-buy for those who value sheer musicianship.'
Organists' Review, Feb 2005
'Margaret Phillips's playing is a delight - clean and articulate, with a good sense of touch and some impressively nimble fingerwork'
Early Music Review, October 2002
'Fine and stylistically aware performances'
BIOS Journal, Vol. 25, 2000
| | | |
| --- | --- | --- |
| Image of Snetzler chamber organ | Image of organ by William Gray | Image of organ by John Clark |
| | | |
Price and ordering information
This CD can also be downloaded complete, or as individual tracks, from CDBaby. Go to Voluntaries & Variations
Thank you for visiting these pages.
Margaret Phillips
Back to top of page